MacBook Pro 2012 Release Rumor Update: Liquidmetal body, LTE Support, Improved Battery and Touchscreen; What More Do We Know So Far? (Latest Rumors)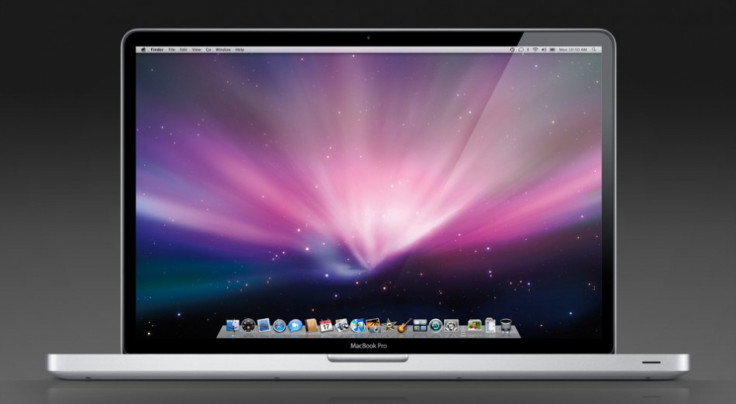 MacBook Pro is gaining a lot of traction, of late. Its prospective release in June has given birth to a host of rumors. The latest rumors indicate that Apple's MacBook Pro series laptop will receive liquidmetal chassis, improved battery and 4G Lte support.
While Ivy chips and Thunderbolt features are confirmed to be coming in the next Mac device, these features should be read with a pinch of salt.
Check out the list of the latest rumored features.
Liquidmetal Chassis
Last week speculations were flying high about the iPhone 5's prospective liquidmetal chassis. This week rumors have changed their direction from one Apple product to another, the MacBook Pro.
SlashGear on Monday, citing an anonymous Apple fan as source, has reported that liquidmetal technology will be used in a device much larger than an iPhone. Even while they consider the source and information as 'vague,' the MacBook Pro still has huge chances of featuring the said technology, believes the website.
Liquidmetal, which is of course not liquid, is a mixture of nickel, zirconium, titanium, and a few other metals in an alloy which makes for a damage-resistant material. This tough and durable material, however, is very light and feels as smooth as liquid or glass when touched, hence the name.
In 2010, Apple acquired the rights to use Liquidmetal technology back in 2010 for around $20 million.
Improved Battery with 'Power Management Technologies'
On April 17, AppleInsider reported that the company was exploring new power management technologies for its next line of products.
Their assumption came from a recent job listing for a position entitled Senior DC-DC Power System Design Engineer, and the position is located at Apple's Cupertino, Calif., corporate headquarters.
The listing further says that [T]he position primarily involves (advanced) DC-DC power design and development for Apple's next generation Macintosh platforms...spanning from notebook computers, desktop computers, servers and standalone displays.
The website said that this new technology would allow devices to be more efficient and run even longer on battery power.
Apple's current Macbook Pro gives up to seven hours of wireless Internet surfing on a single charge, according to the company's official website.
Will the battery be really improved? Only time will tell.
4G LTE Support
A recent report from Patently Apple reveals that Apple won their tenth Telephonic MacBook patent, which would make their Mac devices 4G LTE enabled.
This new patent further states that it involves the use of a wireless antenna on MacBook Pros, which would allow always on Internet functionality similar to the new iPad released this March.
While numerous reports suggest that Apple will make its latest iPhone 4G LTE enabled, a similar feature in MacBook Pro will give it an edge over any other existing laptops.
Touchscreen Enabled Pro
Eastern Morning Herald on Monday reported it is highly possible that we might see the next Pro to be touchscreen enabled. The report added that the feature will increase convenience and practicality than anything else, as touchscreen systems would be great space-savers, highly beneficial to the MacBook's ergonomic qualities.
Other Rumored Features
Quad Core Processor with Intel's Ivy Bridge: Just a few weeks back, Walt Mossberg, one of the most famous Apple insiders from the Wall Street Journal and an old friend of the late Steve Jobs, reported that Intel, whose processors are used by most Windows PC makers and Apple, are launching its new family of chips, the Ivy Bridge, which the chip maker claims will offer much faster graphics performance without sacrificing battery life.
According to CNET, this new breed of Intel chips will be available in the market on April 23 and 29.
The 15-inch version of the Pro will get Intel's Core i5 and Core i7 Ivy Bridge chipset, while the medium version currently features only Core i7 chips, say sources. The machines could also feature 2.7GHz Intel Core i7-3820QM with Intel HD 4000 graphics boosting the graphics power and multimedia processing by about 65 percent over previous Intel chips. The devices can have Turbo Boost speeds up to 3.7GHz indicate reports.
New Thunderbolt Connector: According to a VR-Zone report, Intel has shipped its second-gen Thunderbolt controllers, codenamed Cactus Ridge, and Apple lovers can expect to see the new Thunderbolt to be released alongside the new MacBook Pro line-up.
Retina Display: After Apple's resolutionary New iPad, iPhone 5 or MacBook Pro, all are expected to sport the same Retina display with the revolutionary 2048 x 1536 screen resolution with 3.1 million pixel color support.
DigiTimes reported that While the prevailing MacBook models have displays with resolutions ranging from 1680 x 1050 to 1280 x 800, the ultra-high resolution for the new MacBook Pro will further differentiate Apple's products from other brands.
Full-surface Trackpad: The latest MacBook Pro might feature a full-surface trackpad. Apple already has won patents for full-surface trackpad, including accidental touching by the finger and the ability to distinguish between a palm and a finger.
Surround Sound System: Patently Apple has reported that Apple is working on a surround sound system for MacBook-like devices. The sound system will contain an audio transducer, including a magnetic coil and a magnet in communication with the coil and will provide a near full range response frequency resulting in both low- and mid-range frequencies.
Drop 17in MacBook
MacRumors, citing research analyst Ming-Chi Kuo, known to be an accurate informer, has reported that Apple might drop the 17-inch MacBook Pro from its lineup due to weak sales and in order to streamline the company's product offerings.
Kuo's report says:
Apple's Mac business in 2Q12 will be boosted by several factors. Three of which are: (1) Mountain Lion, which integrates iOS features with Mac OS, Apple TV's interaction function, will be launched in June; (2) upgrading to Ivy Bridge; and (3) back-to-school demand. We forecast Apple will sell 5.32mn units of the Mac series (up 28.5% QoQ and 35.2% YoY) in 2Q12, making it the main growth driver. Further adding While adding new products, Apple is likely to stop making the 17 MacBook Pro this year due to falling shipments, in order to maintain a lean product line strategy.
Rumored Release Date of Pro
While there are some reasons why Apple could release a new lineup of MacBook Pro laptops as early as May, many believe that the laptops will be launched in June at the Worldwide Developer's Conference in San Francisco.
According to reports obtained by 9to5Mac, the next generation Intel chips will launch on April 23 and the new refurbished MacBook Pro line will be unveiled soon after. Several authorized resellers, including Best Buy's online store, are also reporting that the 15-inch MacBook Pro is out of stock, which indicates that the company might process the release of the Pro as fast as possible.
Meanwhile, The Economic Daily Times of China has reported that the new MacBook Pro is currently under production at Foxconn and Quanta Computer and will be shipped in June.
The latest again comes from Kuo, who says that Apple will roll out a fully new MacBook model in early 3Q12, boasting strong performance and easy carryability by combining the advantages of MacBook Air and MacBook Pro.
© Copyright IBTimes 2023. All rights reserved.