U.S. Marines Sold Nearly $2 Million in Stolen Guns, Combat Equipment, To Gangs And Foreign Countries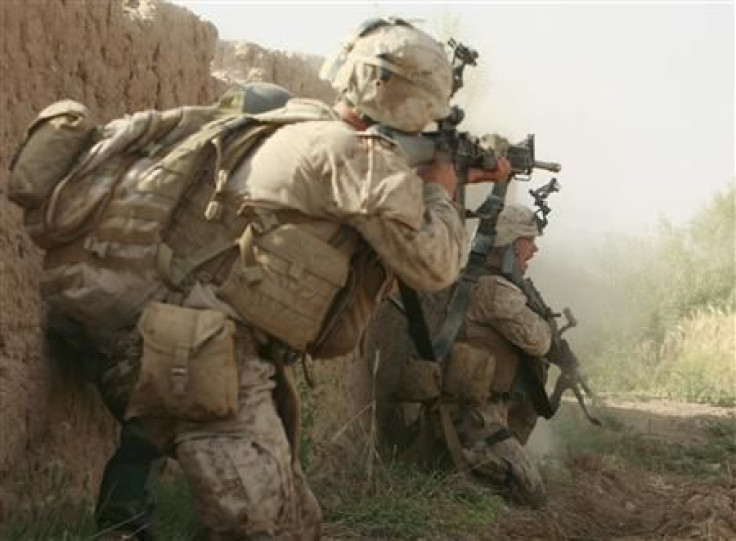 U.S. Marines at Camp Lejeune, N.C., stole and sold approximately $2 million in guns and combat equipment to streets gangs and to China and Russia, military officials confirmed. The stolen guns and combat gear included assault rifles, night-vision goggles and flashlights.
More than 60 people have been implicated in the incident, the Daily News in Jacksonville, N.C., reported. 47 service members and 21 civilians have been charged so far. Several of them have already pleaded guilty, Ed Buice, public affairs officer for Naval Criminal Investigative Service (NCIS) in Quantico, Va., told the paper.
Buice said the case is still active.
I can't go into much detail, he said.
The accused allegedly stole, over-ordered or or obtained the equipment by other means. An official familiar with the operation told the paper that those who were a part of the criminal network did so out of greed and because it was easy to steal the material.
We're talking about sophisticated, hi-tech flashlights that cost the government up to $800 per unit, that official said, as reported by Stars and Stripes. The temptation and ease with which to steal and sell them, for some, is irresistible.
Authorities managed to uncover the conspiracy within the Armed Forces through an investigation that began more than a year ago. At that time, Naval Criminal Investigative Service (NCIS) agents were carrying out undercover operations in an effort to reduce the theft, sale and transfer of stolen U.S. Government property.
The investigation has since grown to include manpower from several federal and local law enforcement agencies.
Military officials told the paper that Marine and naval authorities helped the NCIS recover $1.8 million in stolen property.
They found that some of the equipment was being sold through websites such as eBay and Craigslist. Items such as weapons and ammunition were being sold through yard sales and secret face-to-face meetings, the Daily News reported.
That paper said that two Marines have been convicted in the case. They are Sgt. Daniel Adam Reich and Capt. Donald E. Pump Jr. Reich was convicted Monday of selling and attempting to sell military property and conspiracy. He was sentenced to 40 months in prison and given a dishonorable discharge.
Pump was convicted of similar offenses, sentenced to 18 months in prison and dismissed from the Corps.
© Copyright IBTimes 2022. All rights reserved.
FOLLOW MORE IBT NEWS ON THE BELOW CHANNELS