Luggage Review: July's Smart Carry On Packs Serious Battery
This article uses affiliate links, which means if you purchase products through these links, we may earn a commission. Click here to see our
T&C
. For licensing please click
here
.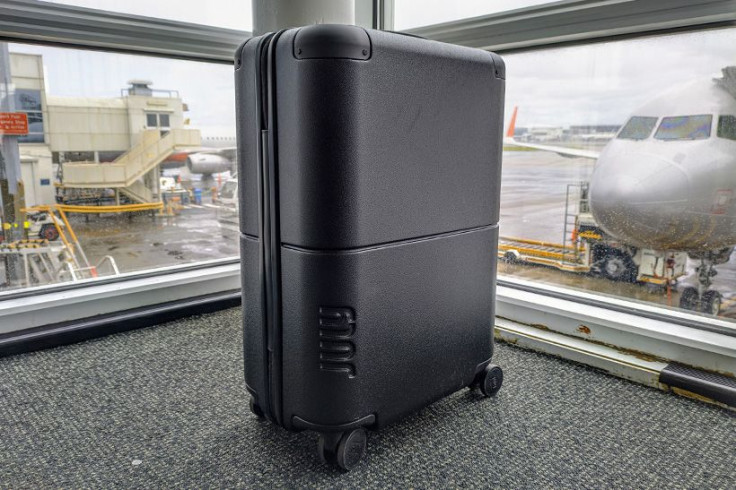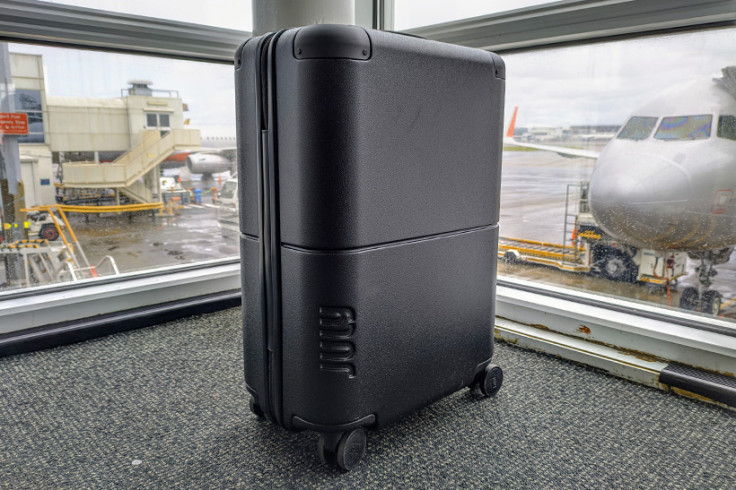 Who is the July Carry On Luggage for?
People who wants a tasteful and durable custom embossing with a variety of styles
Those who appreciate minimalistic, professional aesthetics from the handle down to the wheels
Organizers who love to organize with love the dual packing spaces that divides compressible/incompressible belongings and keeps them organized
Those looking for more functions than a traditional luggage: a capable power bank and a moisture and odor proof laundry bag included
Photo from July.com
Lesser or better?
There is a saying that goes like this: 'The lesser the baggage you have, the easiest will be the travelling in this world', which can be taken both figuratively and literally. While the quote is true to a certain point, those who do travel often will also know that there is a limit to how light you travel in this world while remaining practical (This too can be taken both figuratively and literally).
From experience I might change the quote to: 'The better the luggage you have, the easiest will be the travelling in this world'. And out of the various luggage cases, the carry-on is the one that stays with you the most and the one that affects your travel experience most significantly.
When reading up on the July luggage, its low-key design but its ability to customize the case drew my attention. But I did wonder how the customization will be applied, with only 3 extra days added to the order process; can it stand up to the wear and tear of travel? I set out to discover as soon as I got my hands on the luggage that literally had my name on it.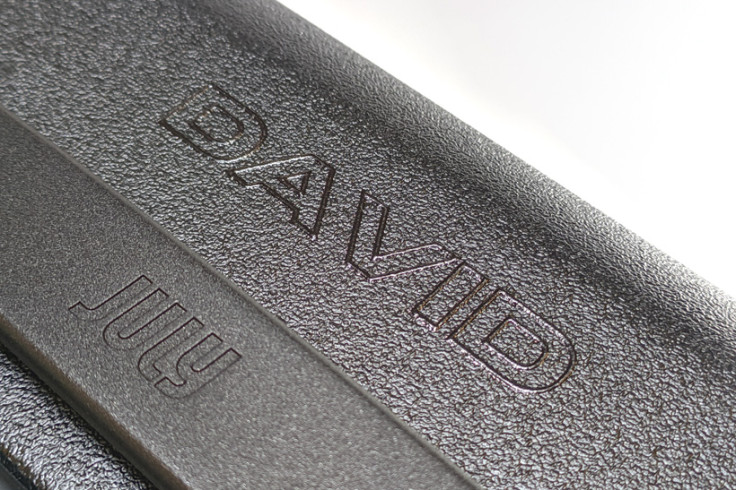 Minimized and Customized
Naturally, the first thing I checked was the customization. In line with the minimalist design of the luggage I chose the 'wide' font, and deliberately got black on black since I have no wish for my name to be plastered on the side in a loud font. All I need is an identification that cannot be easily removed.
The execution of the customization was quite impressive. It actually looks like it's molded into the plastic shell, which is unlikely since that would be impractical and an overly complicated exercise.
Then what is it? I ended up making the inquiry to a representative of July on their website, and the sales rep answered that it is neither an adhesive nor molded into the shell; instead it is made of an UV cured ink that bonds to the case which will match the case in strength. The end result looks both durable and slick. If you don't want to cramp your style by marking your luggage with a colorful handkerchief, July's offering is both unique and useful for identifying your carry on.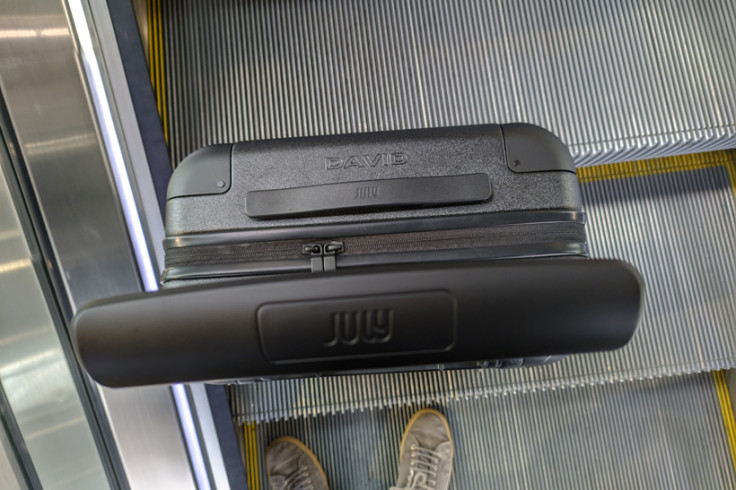 Perfect handle height
To be honest, I have usually always gone for two-wheelers instead of four-wheeler luggage. Why? To me there is something fragile and unstable about four-wheelers. The engineer in me disapproves applying a force tangentially to the extendable handle instead of tugging it along its length, where it is the strongest.
When I took my new July luggage on a recent interstate trip, what I noticed was an unexpected numerous increments where the extension can lock to. After pressing the release button, pulling the handle up to full extension, I was able to go down in 1 cm increments until it got to the optimal length for me - a lot more notches to choose from than what I was used to.
In the end I found that if I adjusted the handle to the height of where a walking cane would be, I could easily apply some weight onto my right hand and push forward the luggage with ease and stability. The incremental adjustment for the handle unexpectedly solved my reservations about the four-wheeler luggage mobility.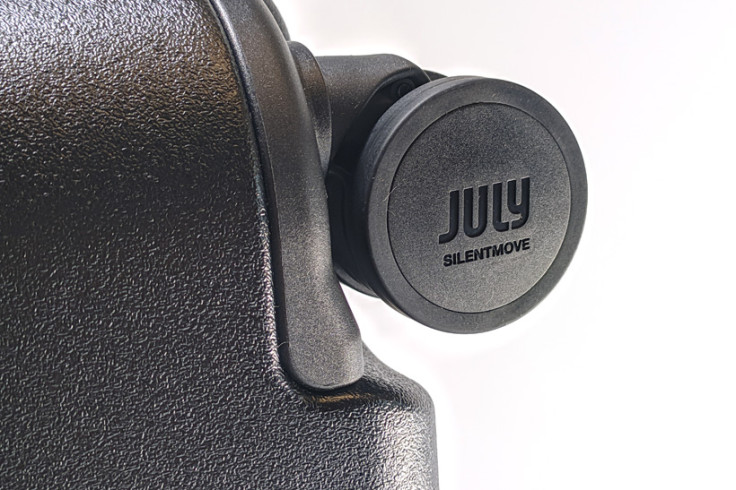 Chrome rims? No thanks
Another gripe I have about four-wheeler luggage is the design of the wheels. Many of the wheel designs that I have seen for some reason utilizes cheesy imitations of sports car rims with fake metallic spokes, while I preferred the almost invisible 'roller skates' wheels of the two-wheelers.
July did not make the mistake of slapping on some 'pimped up' look, but went for a simple solid black rim with a rubberized outer layer. These are wheels for those who want minimalistic rollers that won't easily break or have dust stuck in glittery spokes.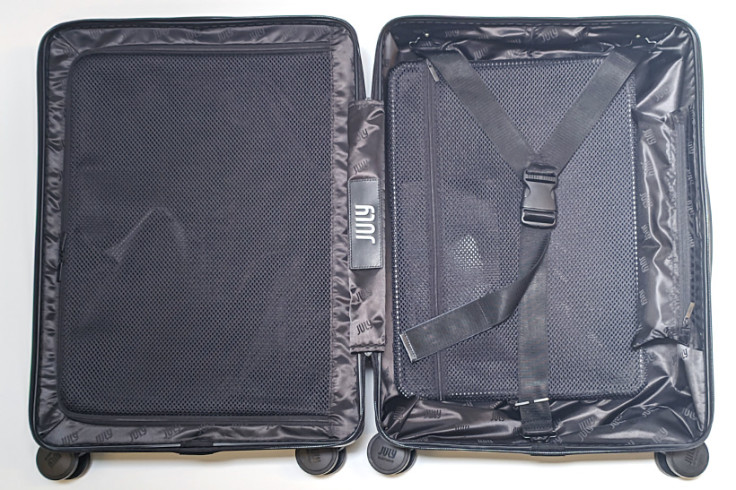 Dichotomy in packing
Going to the inner cavities, the July carry-on divides itself right down the middle into two halves, separated by a zipped mesh. The equally divided space means when I pack, I can divide my belongings into two piles: compressible and incompressible. The compartment behind the front half of the luggage then becomes a space for non-compressible luggage that can range from gift boxes to folded suits or shirts from getting wrinkled. The other compartment has a 'Y' shaped compression strap that means business, which is made more effective with a hard rectangular frame. It can apply some serious compression to your softer belongings like socks and t-shirts.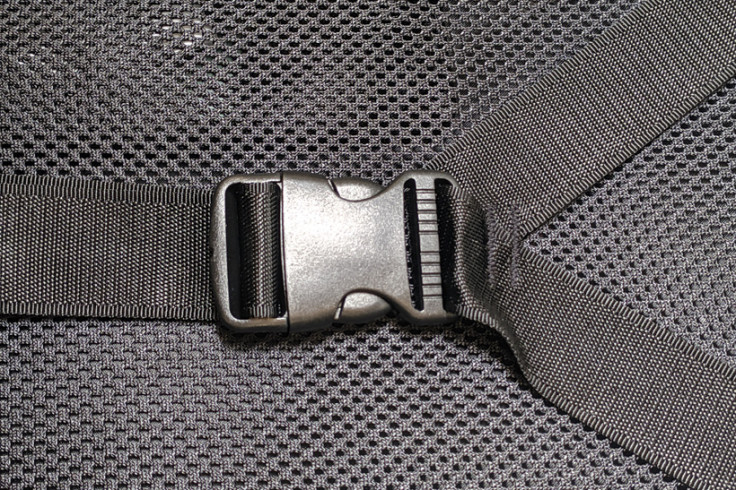 Previously my packing logic always depended on gravity: that is, put the crushable things nearer to the wheels, and the less crushable things nearer to the top of the luggage. The downside to this way of packing is that when the luggage is opened up, the things would have shifted around because the top half has crushed the bottom half on the journey.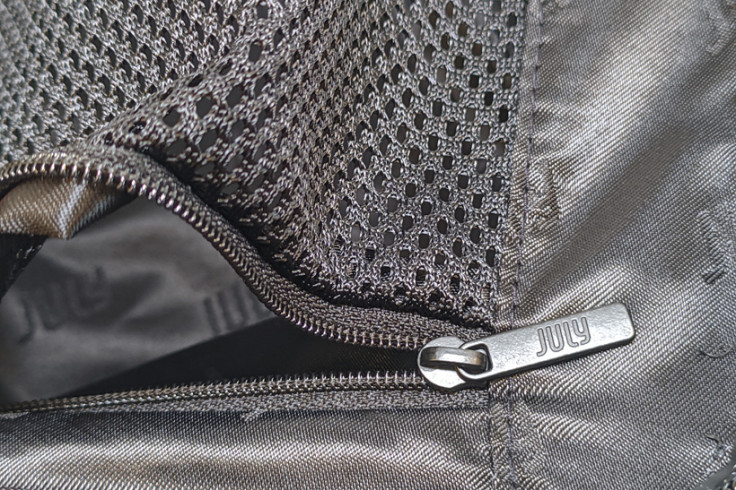 July's way of dividing the crushable/non-crushable compartments means it's an effective way of packing for those who like their gear nicely laid out when they open their luggage. This is a carry on that will give satisfaction to the pedantic organizers out there - even without packing cubes.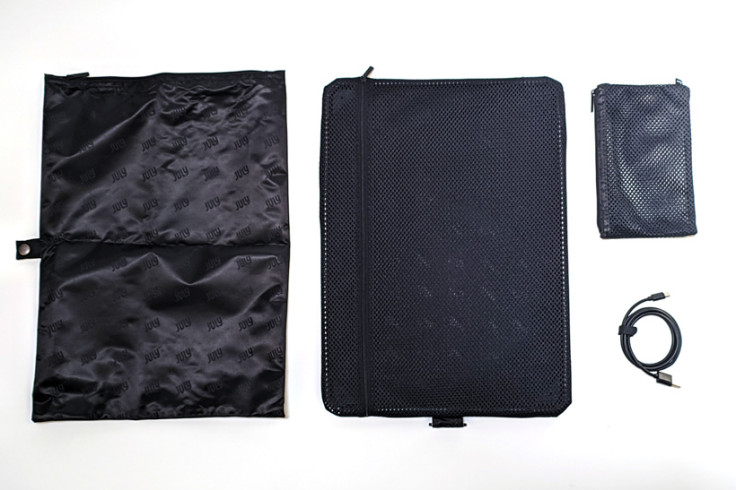 Handy accessories included
The July luggage goes beyond a traditional travel case by including extra functionalities, and the good news is that the extra accessories are more than afterthought gimmicks. Both the quality and the functionality of the included accessories are made for regular use.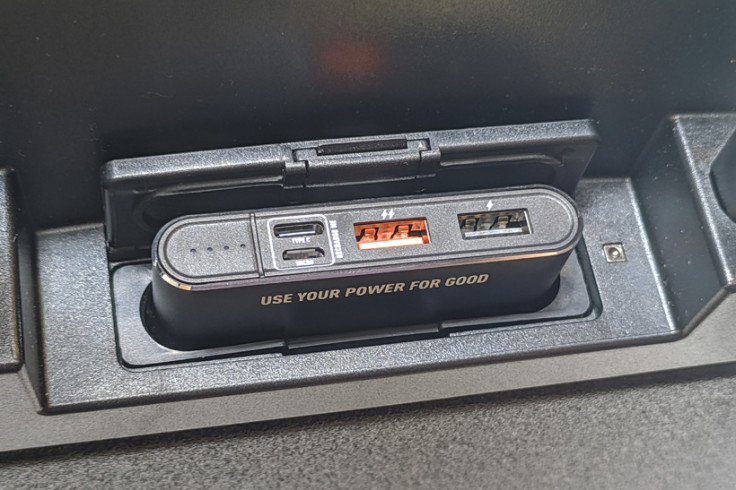 The fact that the carry on case has an inbuilt power bank is handy, but I was actually expecting a standard battery with a 5V/2A output like any generic power bank would have. But no, this 10000 mAh battery pack goes from 5V/3A upto 12V/1.5A - 18W charger for those who are counting. Quite impressive for a built-in power bank, and would mean speedy recharges - something definitely useful for travelers.
Another extremely useful accessory is a bag that is tucked away at the inner side of the luggage, which is made of a material that is 'odor' proof, meant for dirty laundry. I agree it's useful for this purpose, but I found it even more useful when I have a bath or face towel that I do not have time to dry before check out time. This bag keeps the rest of my things dry from a wet towel, which I find myself having trouble with more often than odorous pieces of clothing.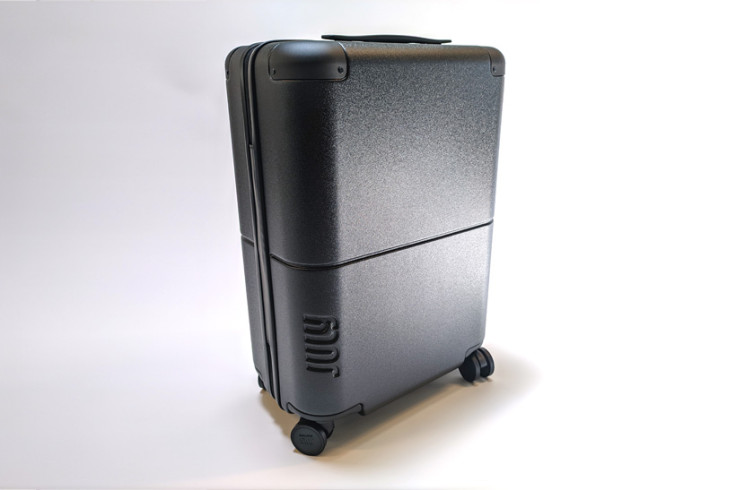 Final impressions
After using the July Carry On, my overall impression is that July puts a lot of thought into their products: down to tiny details like including a quality, extra long USB-C cable for the power bank. When a design team puts this much effort into a product, it's bound to get many things right. From the height of the extendable handle, to the stiff material that the dividing meshes are made of in the luggage, this is a luggage that I am happy to (and able to) put my name on.
Sam is a production engineer turned tech writer who specializes in seeking out gadgets that enhances productivity while still looking sharp. This is a contribution to an ongoing IBTimes review series on gadgets for Business Travelers.
© Copyright IBTimes 2023. All rights reserved.