Life With A $100 Smartphone: How Low-Cost Phones Are Rapidly Changing Lives In India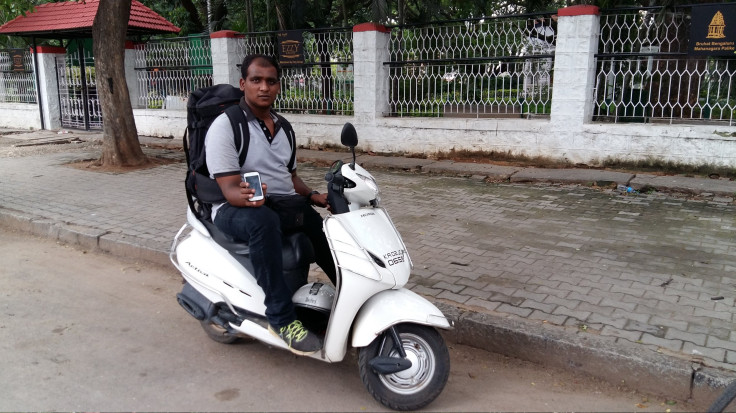 BANGALORE, India -- Bharath Kumar has the husky build of a rugby player, which comes in handy as he lugs around a large backpack filled with packages to deliver on his patch of Bangalore. That and ownership of a good scooter or motorcycle were among prerequisites the 25-year-old met about a year back when he switched jobs so he could motor around town, sometimes listening to music, delivering packages from Amazon.com's Indian unit.
"In my spare time, I like to check the Internet," he said. He has a 3G data connection and likes to use it.
Accessing the mobile Web would have been unthinkable for Kumar just a few years ago when feature phones dominated the Indian market. But now, Chinese mobile phone manufacturers like Lenovo, Xiaomi and Huawei, and Indian manufacturers like Micromax, Intex and Lava are flooding the market with mostly Android-compatible smartphones that cost a little more than $100, a price point that makes it affordable for a vast swath of the Indian public.
Salary: $200 A Month
Kumar has the equivalent of a high school diploma, but street smarts and familiarity with smartphones, picked up among friends and through innate curiosity, opened up opportunities. As India's online shopping scene grew, and the supply chain needed thousands of able-bodied youth, Kumar got a job with the staffing firm that hires out "delivery associates" to the country's rising e-commerce giants and their American competitor Amazon.com Inc.
Such associates typically take home about $200 a month. They also get money to cover their gasoline expenses, with a little bit left over. That means even a $100 smartphone can cost upwards of half the associate's salary, but the returns are well worth it. With diligence, some can expect to rise up the chain. Internet access means easier job searches.
India is leapfrogging the PC era, and the smartphone has become the device of choice for Internet access for millions like Kumar. While PC penetration in the country is only 5 percent, wireless subscriptions number close to a billion in the country of 1.2 billion people. And some 20 million smartphones are sold in the country every three months.
Nation Of Entrepreneurs
It's not just the e-commerce heavyweights who have benefited from the mobile Internet revolution in India, with a substantial portion of their gross merchandise value accounted for largely by smartphones. There are small entrepreneurs such as Parvez Ahmed Mulla, who left behind a successful corporate job in Mumbai to chase his dreams of a "social enterprise" in Bangalore.
Parvez and two of his friends started Aspar Enterprises, which operates Organicz4U, selling organic vegetables, groceries, soaps and other products to a discerning clientele. Twice a week, a core set of customers keen on organic vegetables access the store.
"Earlier it was the SMS, but that was more a one-way traffic where I used to text them that I've got the vegetables. Now it's more interactive, with Whatsapp," he said. Parvez started out as a reluctant user of Whatsapp, the instant messaging app Facebook Inc. acquired for $19 billion, but "it made a lot of difference, because of the interactivity."
Whatsapp also means customers can tell him about something they saw elsewhere, or even on their travels. "They can just take a picture and send it to me."
The 43-year-old entrepreneur's current smartphone is a Lava Iris from local smartphone vendor Lava International Ltd., which cost him a slightly more than $150. He could easily afford an iPhone 6 if he wanted one, but for many others like S. Mangalamma, 30, the affordability of the cheaper Android phones is reason, for the first time, to consider buying a smartphone.
Mangalamma has a bachelor's degree in economics, and works at IT For Change, a nonprofit organization. She has used technology -- from community radio to mobile phones -- to get the message out on health, education and political empowerment to women such as those in her own village, who typically don't even have basic phones of their own.
For her own personal use though, so far she has made do with a basic Nokia handset. She has seen smartphone-toting friends and colleagues hardly ever using their PCs for much of their personal needs. And with good smartphones now easily available in her budget of around 6,000 rupees (about $100), "I think this week I might buy one myself. My friend has asked me to compare Redmi and Moto E," she said.
© Copyright IBTimes 2023. All rights reserved.