Trump Classified Documents Case: Former Pentagon Chief Slams Ex-POTUS' 'Irresponsible Action'
KEY POINTS
Mark Esper said the revelations regarding Trump's indictment were "very troubling, disturbing"
Esper was fired in 2020 after he opposed deploying of active-duty troops to disperse civil unrest
Trump pleaded not guilty to 37 counts in classified documents case last week
Donald Trump's ex-defense secretary Mark Esper has joined the growing list of people criticizing the former president's alleged mishandling of confidential documents as he called out his one-time boss for irresponsibly placing the country's security at risk.
"It's just irresponsible action that places our service members at risk, places our nation['s] security [at] risk. You cannot have these documents floating around. They need to be secured," Esper told host Jake Tapper on CNN"s "State of the Union."
When asked if the GOP 2024 frontrunner should be trusted again if the allegations against him regarding his retaining of confidential files were proven to be true, Esper said "no," adding the "revelations" on the indictment were "very troubling, disturbing."
Tapper asked Esper if he believes Trump's actions put national security at risk and he replied, "Yes I do."
"And, look, no one is above the law. And so I think this process needs to play out and people held to account, the president held to account," the former U.S. secretary of the Army said.
Esper was handpicked by Trump to become his Pentagon chief in June 2019, but he was fired by the business mogul late in 2020 after their relationship was strained due to contradicting stances on several issues. Among them was the use of active-duty troops to disperse protesters following the death of George Floyd in 2020, NBC News reported.
In his 2022 memoir, titled "A Sacred Oath: Memoirs of a Secretary of Defense During Extraordinary Times," Esper revealed Trump once asked why officers couldn't shoot at George Floyd protesters.
"Can't you just shoot them? Just shoot them in the legs or something?" Trump allegedly said.
In May last year, Esper told Norah O'Donnell of CBS' "60 Minutes" that he wrote the memoir because he believed it was important "to tell the story about things we prevented. Really bad things. Dangerous things that could have taken the country in a dark direction."
Trump denied the allegation that he wanted to have protesters shot in the legs. "Mark Esper was weak and totally ineffective, and because of it, I had to run the military," he said at the time.
On Esper's claim that former White House Chief of Staff Mark Meadows told him he was getting terminated because of his disloyalty and the "President was not happy with you [Esper]," Trump said he fired him because he was "incapable of leading."
Esper's latest comments came after another former Trump administration official criticized the ex-president for retaining classified documents even after leaving the White House.
"This is not a circumstance where he's the victim or that this is government overreach," former Attorney General Bill Barr said on CBS' "Face the Nation" on Sunday.
Barr went on to note that the government "quietly and with respect" tried to get the documents back, but Trump "jerked them around," adding he "had no legal basis for keeping them."
When asked if he thinks Trump will "put the country at risk" if he gets reelected again, Barr said Trump would "always put his own interests, and gratifying his own ego, ahead of everything else, including the country's interest."
Esper and Barr aren't the only Republican Party members who've had a negative reaction to his second indictment as many others, including ex-CIA director Mike Pompeo and Rep. Ken Buck of Colorado, have called out the severity of the matter.
Meanwhile, some experts believe Trump is on an uphill climb in the documents case – at a time when the GOP frontrunner is working to get re-elected next year.
Elizabeth Goitein, a national security law expert at the Brennan Center for Justice, said the "carelessness with which these documents were handled" makes for a strong case for prosecutors.
Trump has pleaded not guilty to 37 counts, which include violations of the Espionage Act and providing false statements.
He called last week's federal indictment "the most evil and heinous abuse of power" in the country, saying the latest development was an example of "election interference."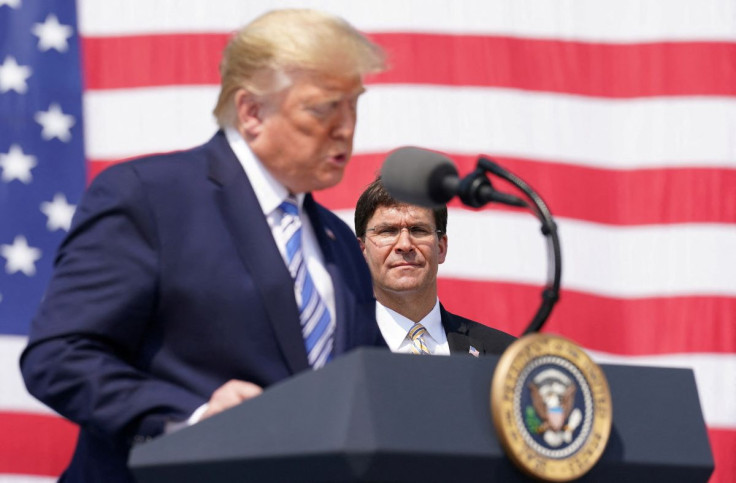 © Copyright IBTimes 2023. All rights reserved.