From Syria To The White House: The Gripping Narrative Of Dr. Tarek Kteleh's Path To Human Rights Advocacy
* This is a contributed article and this content does not necessarily represent the views of IBTimes.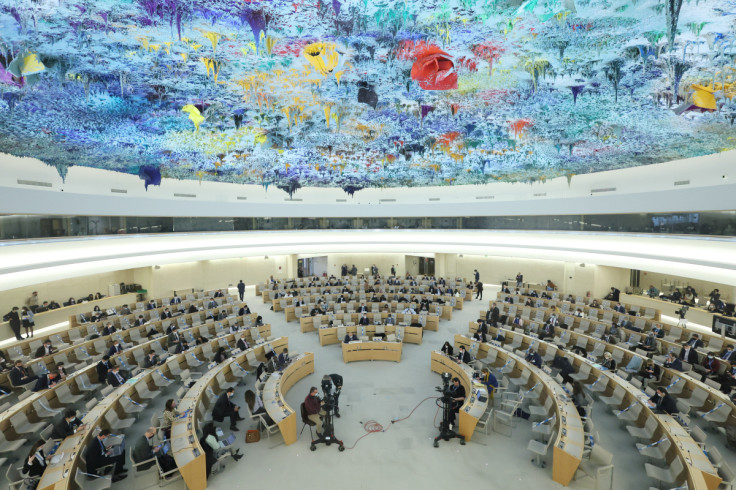 Migrating from Syria to the United States of America, Dr. Tarek Kteleh has won against all odds to become a thought leader and an advocate for human rights and democracy. His passion to serve others fueled his unconventional trajectory from humble beginnings to consulting with the President of the United States of America.
While growing up in Syria, he never envisioned being an advocate. He had modest dreams for his future. At the time, it was the norm for high-achieving students to seek admission to medical school and become physicians. The highest achieving medical students would frequently then get the chance to complete their residency program in the United States. Driven by the zeal to help others and societal expectations, he aspired to serve patients by becoming a physician and provide for his family.
He took advantage of this opportunity by working hard in his studies and was able to secure a residency program position at the University of Missouri and eventually living the American dream.
In 2002, at the age of 24, his arrival in the USA was plagued with various challenges. Being up against the widespread perception of migrants from the middle east, the national aversion to foreign intervention, lack of a trust fund, zero political experience and the absence of well-connected friends, Dr Tarek had to rely solely on willpower and persistence. However, amid this chaos, he found solace with his fellow Syrian migrants, which served as a propellant for his career in human rights advocacy.
Reflecting on this, Dr. Tarek Kteleh, CEO of Rheumatology of Central Indiana, said, "In my transition from Syria as a medical student, with the dream of becoming a working professional in America, I received an outpouring of kindness from the Syrian American community. I came to learn the popular saying that 'service to others is the rent you pay for your room here on earth.' I'd been given a very comfortable room here on earth and in return for that blessing, I wanted to devote my time and resources to making the world a better place."
After completing his residency, he gained admission to Washington University in St. Louis, where he specialized in rheumatology. He then chose to diversify his expertise and personal development by enrolling in a Master's degree in management from Harvard Extension School.
After years of experience as a rheumatologist, he established the Rheumatology of Central Indiana in 2018. It was built to provide diagnosis and customized treatments for patients with illnesses related to their joints, muscles, tissues and a wide range of other diseases. Although he was impacting the lives of his patients, he decided to go a step further by advocating for causes that resonated with him.
Drawing from his experience as a new migrant and his intense desire to serve, Dr. Tarek formed initiatives to assist doctors who newly migrated to the United States. Some of these programs were scholarships, interest free loans and training programs. He hosted them in his clinic for training, as a pathway for them to easily blend into the health care Industry's labor market. "I had not forgotten how difficult it was to be a young physician in a foreign country. I personally experienced this during my first few years in the US. Many fresh graduates and undergraduate doctors struggle to support themselves." Dr. Tarek stated.
He started by welcoming about 50 newly migrated Syrian and Middle-Eastern doctors into his clinic. Since the scholarship program's inception in 2007, 300 doctors have received interest-free loans, and over 95% of the recipients have repaid them. Today, the scholarship is self-sustainable. Its network of donors includes long-established physicians and former recipients, many of whom have gone on to contribute to the same scholarship they received.
Following the success of his initiatives, he was inspired to do more for oppressed people around the globe and venture into political advocacy. With the support of his wife, he built a network of bold individuals that were passionate about lending their voices for the oppressed.
In 2018, Dr. Kteleh co-founded an advocacy organization called Citizen for Secure and Safe America (CSSA). The organization was able to meet with the President of the United States just before an impending large-scale attack on the final remaining Syrian opposition's stronghold in Northern Syria by Vladimir Putin and Bashar Al Assad. 4 million civilian lives were in danger. CSSA was able to convince the US President to halt the attack. The area is still safe to this day. In 2019, the group was also able to convince the US Congress to pass a law, the Caesar Act, which sanctions any entity that helps war criminals in Syria, including Assad.
"The Six Pillars of Advocacy: Embrace Your Cause and Transform Lives" was recently authored and launched by him to serve as a framework for guiding aspiring and existing advocates.
FOR FREE to continue reading
✔️ Unlock the full content of International Business Times UK for free
offer available for a limited time only
✔️ Easily manage your Newsletters subscriptions and save your favourite articles
✔️ No payment method required
Already have an account?
Log in
© Copyright IBTimes 2023. All rights reserved.